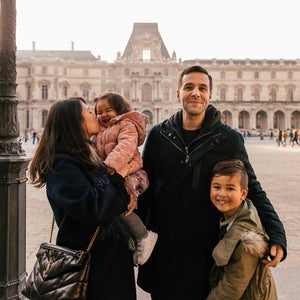 What can't a
mother's love do?
OUR STORY
· inspired by motherhood ·
Miki Miette was founded in 2011 by Sawako Yamauchi, a Los Angeles-based fashion designer. After spending 12 years in womenswear and menswear, Sawako received the news of her soon-to-be son, inspiring her to create a beautiful little brand for her little one that would grow and evolve organically as he did.

Her dream has since taken on a life of its own, blooming to become a successful line of trendsetting children's fashion.

Miki Miette's styles have been sold in boutiques and retailers around the country, including Nordstrom and Barneys New York.
OUR VISION
· celebrating the magic of childhood ·

Whether it's jet-setting with their parents or making pancakes at home on a lazy Sunday, we make comfy, fashionable styles for you and your little ones to enjoy every day.

We, as parents, have the power to inspire their sense of self and individuality. We believe every child deserves to have their personal sense of style expressed—even if it's wearing their jacket inside out and their snowboots out in the summer!
OUR STYLE
· capturing the California lifestyle ·

With sand between our toes and palm trees swaying in the wind, Miki Miette presents the ultimate every day kids fashions.

Pulling inspiration from anything from our favorite 80's movies, to a day picking colorful fruit at the farmers market with our kids, our designs are put together with loving detail.  
OUR AMAZING CUSTOMERS

Thank you to our amazing customers for years of loyalty! We could not have come this far without your love and support!
OUR DIVERSE TEAM

Of our 8 employees:

6 are WOMEN

5 are PEOPLE OF COLOR

(3 ASIAN, 1 LATINA, 1 BLACK)

5 are WORKING PARENTS

ALL are happy members of the team ❤️
OUR UN-WAIVERING QUALITY

Thanks to the relationships we have nurtured with our factory since Sawako's consulting days 20 years ago, we have a great production team that create high quality goods while being paid fair wages, family time off and a positive work environment.
WHY OUR PRODUCT
MADE TO LAST
We're parents - we get it.  We want kids clothes that will last dozen of washes, food spills + diaper blowouts!  We strive to use the best quality fabric + trims so you have one less thing to worry about!
MAMA + KID APPROVED
Kids have very specific taste in... well, everything.  We keep our designs fun, fresh + soft so you and your little ones can agree on their outfits!
SHOP SMALL
Our team consists of 8 truly amazing, hard-working people, and we all LOVE what we do.  Thank you so much for your continued loyalty + support in our small business!
QUESTIONS? WE'D LOVE TO HEAR FROM YOU!